WormBoss Sheep Workshop – Pilot 2
23 November @ 9:00 am

-

3:00 pm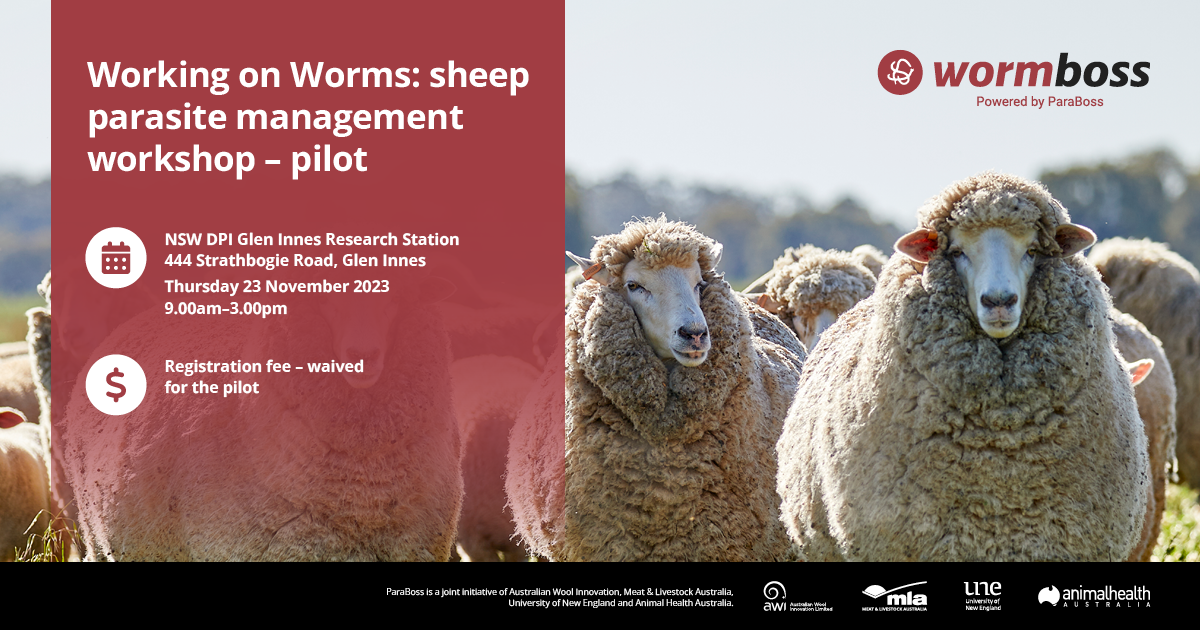 The cost of internal parasites to the Australian sheep industry is estimated at $655 million, including both prevention and production losses.
Substantial gains in productivity and cost savings are possible at the farm level.
ParaBoss is developing a one-day workshop for sheep producers to help them improve their on-farm productivity and overall success of managing worms on farms.
ParaBoss is an initiative of Meat & Livestock Australia, Australian Wool Innovation, the University of New England, and Animal Health Australia.
These workshops are now entering the pilot phase, where producers are invited to attend to provide feedback to the development team.
Attendance at the pilot workshops is free of charge, however, registration is required. Places are limited to ensure excellent interaction between presenters and attendees.
The purpose of the pilots is to present the workshop content to producers, refine all aspects of the delivery of content, and seek feedback from producers regarding whether there are any gaps in content, and also whether the participant's expectations are being met, specifically in terms of the level of confidence in parasite control before and after the event.
The workshops will facilitate
An improvement in overall skills and confidence of sheep and cattle producers in their understanding of internal parasite management
Improve access by producers to key sources of information
Improve the adoption rate of producers using improved (best practice) parasite management
Increasing the proactivity of parasite management in flocks and herds
Increased uptake and use of WECs (and larval diffs) for decision-making
Improved management of worms in sheep flocks
Less production losses/mortality from parasites in flocks and herds
Increased productivity in flocks and herds
Increased effectiveness of drenches and parasiticides
Decreased impacts of chemical resistance
Increase in use of drench checks – to determine the effectiveness of drenches, FECRTs
Increased confidence of when to and not to treat livestock for parasites
Attendance is free of charge, and all workshop resources and catering will be supplied on the day.
RSVP is essential – and the workshop numbers will be capped. Attendees will be registered on a first-in, best-dressed basis.
Please do not hesitate to contact Megan Rogers, ParaBoss Extension on 0427 459 891
We look forward to you joining us at the pilot.